The Pragmatic Shave, Part 2: Harry's
Continuing from where I left off in The Pragmatic Shave, Part 1, I'm going to review the shave essentials available from Harry's: their "Truman" handle, their five-blade cartridges and their shave cream.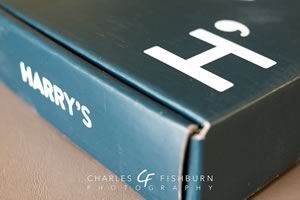 The package arrived in my mailbox one afternoon: a dark cerulean box with only the Harry's "H'" logo on the bottom left corner of the face and the text "Harry's" on the side edge, both bold in white capital letters. No over-commercialized banners or outlandish graphics scatted about, littering the outer casing in hopes that you'll continue buying from them. It was making a very strong statement by being very understated.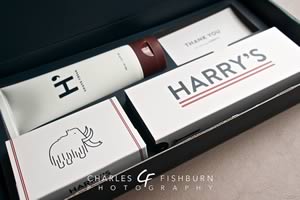 Upon the official unboxing, you can tell immediately that they took the time to design packaging that is attractive and minimalist, clean and precise. Despite the relatively inexpensive price of $15, it seemed more like a luxury item. Their website's opening banner says, "Handsomer. Sharper. Less Expensiver. An exceptional shave at a fraction of the price". Of course, they're just trying to be clever initially. That aside, it is a handsome box of kit. It looks and feels modern and upscale, with strong but slightly muted contrasting colors against canvas of off-white, or is it bone, or eggshell?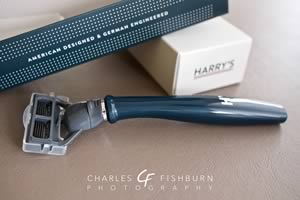 My "Nautilus Blue" razor handle was housed in its own box that says "American Designed & German Engineered" on the side. It sounds promising. The smooth, plastic handle is rather unsophisticated in the sense that it has no extravagant curves; no gaudy metal segments; no grippy, rubberized patches; and no fancy swiveling head mechanism. Harry's obviously don't feel the need for such brash and unnecessary components. It does have a bold, chrome-like H' logo on the handle, which is a nice touch and a good example of clean, simple branding. On the functional side, it's very comfortable to hold. But its entirely non-textured surface made me wonder if that would present a gripping issue if the handle got wet during shaving. As it turned out, however, no: I didn't find it to be squirreling away or uncontrollable. That said, the handle was entirely plastic, and did not feel luxurious at all; on the contrary it was rather underwhelming given overall presentation of the Harry's set.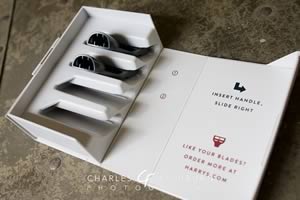 The five-blade razor cartridges had their own distinctive housing in a box the size of a bar of soap. As you can see, it's very interesting packaging choice that is not really like the typical clear plastic cartridge holders that you can snap to the bottom of your typical razor's plastic holder. These were meant to be set on a shelf in your bathroom cabinet in a place of their own, not to be hidden beneath a shell as if they were somehow less important as a mere afterthought. Disappointingly, Harry's cheaps out on the initial shipment, so you get a total of three blades: one on the handle and two in the box, even though the box can hold four. It would have been nice if they at least included four blades total so that you don't feel like they withheld a blade from your four-pack just to so they can get you to buy cartridges sooner.
Unfortunately, I feel like the promise of allegedly superior German blade manufacturing was essentially nullified by a poorly implemented plastic frame. The blades indeed seem sharp enough. But the cartridge surrounding them is made from a weak or slightly softer plastic than what I was expecting. The primary hinge/pivot points are at the left and right edges of the cartridge rather than at the center like most razors. So even if it seemed like a good, solid design, it ends up feeling, for lack of a better description, weak. As I was shaving, I found I had to go back over areas multiple times because it didn't seem like the razor was hitting all of the spots quite well enough.
The shave cream is nice and has a pleasant scent to it that isn't too strong or sharp. But on my first shave with it, the lather was a bit heavy or thick. It did its job, though, as far as giving the razor a slick surface to glide against. The lather of the Nivea shaving gel I typically use is a bit slicker, I think, and the Dr. Carver's Easy Shave Butter from Dollar Shave Club easily trumps them both. The most important thing is that I didn't have an issue with the razor dragging on my skin, so that's good. There is a definite downside, however, when considering the shave cream and the cartridge. The five blades might be nice, but they are very close together. Combine narrow intra-blade distance with coarse whiskers and a thick lather and you get a blade that is difficult to rinse out completely without bits of whiskers lingering between the blades. That is annoying. After I finished and got my the excess shaving foam rinsed from my face, I realized that despite my best attempts to get a clean shave on the front of my chin, I failed.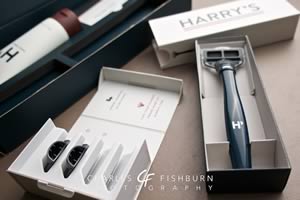 As for price, the Truman set with the handle, three blades, and a tube of shave cream was $15. If I signed up for their Auto-Refill plan, I'd end up paying $31 every four months for eight blades and two tubes of shaving cream. They breakdown the price as $1.88 per blade and $8 per cream. If I don't want all the extra shave cream, I can just re-order blades at 8 for $15 (again, $1.88 per blade). Compared to the $28.49 ($3.56 per blade) for the Fusion blades on Amazon, that's quite the deal. Even though the savings are significant, and even though I really liked the comfort of the handle, I did't think the cheap design or manufacture of the cartridge with its narrowly spaced and easily clogged blades were worth it. After trying them a few more times, I put the Harry's kit in a drawer and moved on to a couple other options. Eventually, I just threw all of the Harry's stuff in the garbage. I can get better shaves from other manufacturers.
Click here to continue to "The Pragmatic Shave, Part 3: Dollar Shave Club"