Updated 2016-11-17
Razor and Shaving Club Reviews
Including Dollar Shave Club, ShaveMob and Harry's
Click here if you want to skip the reviews and just get to my recommendations for the best deals.
I originally published the bulk of this review in a series of posts called The Pragmatic Shave in which I reviewed Harry's, Dollar Shave Club, Dorco, and 800Razors. I've republished those on their own pages, so you can read my full reviews if you want.
Here, I've pared down all of that information into a single review that gives you the most important bits so you can get shopping, saving, and shaving sooner. For the record, I have not been compensated in any way by any of the vendors or manufacturers discussed here. I have spent my own money to purchase and personally test all of these products. That said, let's get started.
Spoiler Alert: Dorco and Other Bits
Let's just get this out of the way from the start: Dollar Shave Club and ShaveMob use cartridges and unbranded handles from the South Korean company, Dorco. Dorco offer 2-, 3-, 4-, 6- and 7-blade razors manufactured in South Korea, and handles manufactured in China. I am not trying to undermine any of the companies, nor telling you to buy directly from Dorco. Each of these companies offer distinct experiences to accomodate different preferences, which I'll get to at the end of this review. But if you were wondering where they got their blades and handles: it's Dorco.
As a little aside and in case you hadn't heard, I'll mention here that Dollar Shave Club was sold to Unilever for $1 billion. But I'm pretty sure that nothing has really changed there as far as products and services go.
---
Now that we've covered that, let's talk companies, razors, and so forth, starting with the now-defunct 800Razors.com and followed by the rather unimpressive Harry's. Then we'll continue on to Dollar Shave Club, ShaveMob, and Dorco.
800Razors.com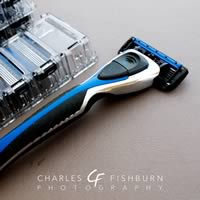 I really liked 800Razors, partially because they sold Schick-produced blades, manufactured in the USA. It seems like they were essentially Schick Hydro 5 but without the fancy "Hydro" lubrication strip enhancement. They were slightly more expensive than Dollar Shave Club offerings, but they were American-made goods offered at a less expensive premium than the Schick-branded counterparts. I really liked their 5-blade cartridge and thought that they had the best razor handle of all, including any of the handles for the Gillette Fusion variants. I still have one new cartridge left. But in 2016, ShaveMob acquired 800Razors, and ShaveMob sell different products.
That doesn't mean these are now unavailable. They are manufactured under the Personna name, where you can find the Caliber 5 razor, or the Caliber 3 if you want a 3-blade cartridge. You can find information on them on the Personna website. They seem like they might be somewhat generic and can be found under a variety of brands or names, including "Caliber", "Style35", "Wilkinson Sword", and others, depending on where you find them. I believe Walgreen's and Walmart have versions, and you may find them at other retail stores, grocery stores, and pharmacies.
Harry's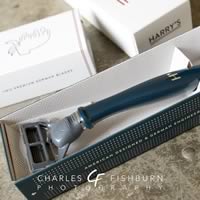 I discovered Harry's because of targeted advertising on Twitter after I had seen the original Dollar Shave Club commercial and subsequently visited the Dollar Shave Club website. Harry's claims to be "A Good Shave and a Good Price". Their German-made blades seemed like they might be fantastic, and their packaging had a touch of luxury to it. However, I found that the the cheap, plastic handle was mediocre and didn't feel luxurious at all, and I did not like their blades. They had flimsy plastic pivot points for the head of the cartridge that made it feel like the blade was never really connecting solidly with my face. So I had to go back over some places multiple times and still ended up with a shave that was not as close as it could be. I very quickly stopped using Harry's once I tried Dollar Shave Club, and ended up throwing away all of my Harry's products.
ShaveMob
I didn't know about ShaveMob until 2016 August 28 when I received an email announcing that they had acquired 800Razors "to bring you an even better shaving experience." As soon as I got to the ShaveMob website, things felt a little familiar. Despite color differences, the handle looked familiar, as did the cartridges. At the bottom of the page, I read "Cartridges manufactured in South Korea. Handles manufactured in China." Of course, that sounded exactly like Dorco. So it seemed there was nothing new there.
Unlike Dollar Shave Club, who will auto-send your subscription every month, ShaveMob opt to send you a shipment of cartridges without any specific renewal schedule. They'll send you a reminder email, but you have to tell them when you're ready for another shipment. I actually like this feature because I typically only shave once a week, and don't go though cartridges very quickly. So I have to put my Dollar Shave Club shipments on "Pause" regulary simply because I have more than enough blades to last me for a while. Also, unlike Dollar Shave Club, ShaveMob will sell you more than a 4-pack of blades at a time, so you can save a little more per blade.
Dollar Shave Club [DSC]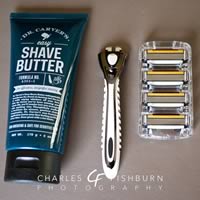 As I mentioned earlier, Unilever now owns Dollar Shave Club, but is keeping DSC CEO and co-founder Michael Dubin. Of course, we've already covered the fact that Dollar Shave Club, like ShaveMob, are using Dorco cartridges and handles. But they operate on a subscription model, period. They are not interested in selling you a bunch of cartridges in one large transaction. They want to be your shaving maintenance company, shipping you what you need without bothering you too much. Their monthly subscription rates are very reasonable, and shipping is free on their 4- and 6-blade systems.
Dr. Carver's Easy Shave Butter
DSC say "Build a Better Bathroom" because they really want to "own" your bathroom. So they also offer soap, hair styling products, sunscreen, hand cream, a product known as "One Wipe Charlies", and a fantastic shaving cream replacement known as "Dr. Carver's Easy Shave Butter". I haven't tried most of their auxiliary products, but I did try the shave butter and instantly decided that it was the best thing I've every used to help shave my face. It's a thick, slick, non-foaming lotion that you apply to your face in lieu of your regular shaving cream or gel. I shave after I shower, and I make sure my face is still slightly wet before applying the shave butter, although I don't know if that's really necessary. I don't have to use much to get sufficient coverage so the large $8.00 6-oz tube lasts me for several months.
I've tried the old-school menthol shaving foams, the latest shaving gel from Nivea, and some rather luxurious shaving soap from êShave. And while I have to admit that using the êShave cream with a badger-hair shaving brush was a pretty high-end experience, I still prefer the ease of using a thin coat of the Dr. Carver's Easy Shave Butter. Even if you don't want to try Dollar Shave Club for cartridges, you should try the shave butter.
The Man Behind the Curtain: Dorco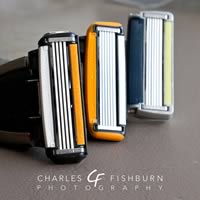 "Who or what is Dorco?" you're asking. As I said right at the beginning, Dorco is the South Korean company that manufactures all of the cartridges resold by Dollar Shave Club and ShaveMob. Dorco, however, also will sell you handles and cartridges directly to you without having to go through the shave-subscription middle men. If you want a basic 2-blade cartridge or a crazy 7-blade cartridge, Dorco have you covered. The only thing they don't sell between those two extremes is a 5-blade cartridge. They offer two different 6-blade options: one with a special trimmer blade on the back, and one without that trimmer. I'm not sure how different the design and placement are from the similar feature Gillette offer on some of their cartridges, but I do know that I like the Gillette trimmer blade better than the Dorco. I don't know if I was using it incorrectly, but I got cut a couple different times I tried using Dorco's.
One Handle to Rule Them All: The Dorco Common Docking System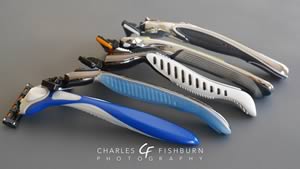 In addition to different blade-count cartridges, Dorco offer a few different styles of handles. Of course, Gillette and Schick have been doing the same thing for ages. If you buy a Mach III, you get a different handle than you get if you buy a ProGlide. With Dorco, if you get their Pace 3 set, you buy a different handle than if you buy the Pace 6 set. Pictured here, from bottom to top, are several of the Dorco handles: the Comfort Twin II, Pace 3, Pace 4, Pace 6 Plus, and Pace 7 (missing is the Pace 6 handle). You can see that the handles vary from mostly silicone over a metal frame to mostly metal with some silicone grip sections.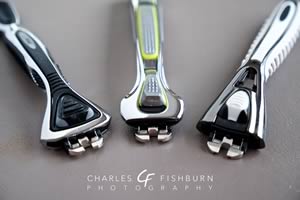 I hear you saying, "But you said 'one handle to rule them all'." Correct. Dorco have gone step one better, and developed what they refer to as their "common docking system" for the "Pace" handles and blades. This means that you can use any of their handles on any of their blades. (The one small exception is their Comfort Thin II 2-blade model.) So if you give Dollar Shave Club a try and opt for their "Executive" 6-blade razor, you could still go to Dorco, order a set of 3-blade and 7-blade cartridges without having to buy new handles and without having to worry about razor handle clutter on your bathroom counter. Kudos to whoever came up with that idea!
What's the Best Deal?
This is not necessarily a cut-and-dry question. When we say "best deal", we typically think about the most cost-effective option. But consider what you really want. Do you want to spend the least amount of money on one order to cover your shaving needs for the short term. Or do you want the Costco deal so that can buy a lot now but save in the long run. Or, do you want to spend a little to take care of your short term needs, and have a company send you razors automatically before you run out? Here are some possible recommendations for you:
— "Keep It on the Cheap"
If you don't want to bother with subscription details and you want still want something inexpensive for short term buying, then go for the Dorco Pace 3. You pay $5.25 for the initial purchase, in which you receive the handle and two cartridges. You can then buy a 4-pack of blades for $6.35 whenever you need more. On the refills, it works out to $1.59 per blade.
Or, give the Dollar Shave Club "4X" plan a try. You'll get a basic handle, and four 4-blade cartridges for $6 per month (so $1.50 per cartridge), and you can adjust your subscription in case you don't burn through four blades each month.
— "Give Me the Warehouse Club Deal"
If you want to buy in bulk, ShaveMob is your best bet because they will sell you the same 3-blade system with 24 cartridges for $24.99. If you subtract the $3 they charge to buy a replacement handle, you can think of it as getting 24 blades for $21.99, which works out to a Gillette-crushing $0.91 per blade.
In fact, for 3-, 4-, and 6-blade razors, ShaveMob's 12-month supply option gives you the best deal all around. A 4-blade system ends up at about $1.12 per cartridge, and the 6-blade system ends up at $1.33 per cartridge for the model without the trimmer blade, or $1.54 per cartridge with the trimmer blade.
On occasion, however, Dorco have sales that give discounts on cartridges so that a 24-count purchase is about as cheap as it is from ShaveMob. You may have to sign up for Dorco's email newsletter to get those coupon codes, though.
— "Don't Bug Me or My Wallet"
If you want to buy for the short term, and like the idea of someone auto-shipping you blades on a recurring basis, then go for Dollar Shave Club because their 4-blade "4X" blade ships with a free handle and four cartridges for $6 per month. If you find yourself getting too many blades, you can decrease the shipping frequency so that you get new blades every other or every third month. They'll remind you via email that your next box is shipping out soon, so you can add other items to it if you need. But if you don't do anything, it arrives automatically. It doesn't get much easier.
— "I Want to Test Them All"
Maybe you've been using a Mach III or paying through the nose for the Fusion ProGlide and don't know how many blades you really prefer. Go to Dorco's website where you can select a couple different variety packs, or hand-pick which cartridges you want before committing to one blade count. But don't forget to make sure you get at least one razor set with a handle.
— "Did I Mention I'm a Cheapskate..."
So if you are the personification of frugality, you should know that you can't beat the good old double-edged safety razor for low-cost recurring shaving expenses. You will have to pay for a handle, which may not be as straightforward as you think. Some can be more "aggressive" and not really suitable for the safety razor novice. Do your research. I have the Parker 92R handle, which I bought on Amazon.com.
Dorco also offer a razor and double-edged blades under the brand "Dorco Prime", and will sell you their Dorco Prime Starter Set for $25. With that, you get a chrome-plated brass butterfly-opening handle with coarsely knurled grip, a plastic travel case with built-in shaving mirror, and 30 of their "Platinum" blades with extra Teflon coating.
Speaking of blades, they vary as well, according to reviews and videos across the internet. But once you do settle on a handle, you can get some blades for less than $0.10 per blade in you look on Amazon.com. If you really want to stock up on them, you can go to the Dorco Prime blades page where you can buy 1,000 of their "Platinum" double edge blades for $63.25, or 1,000 of their standard stainless steel blades for $55.00 — less than 6 cents per blade!
It's hard to beat a dime (or less) per blade. Some recommend, however, that you only use a blade once or twice. Since the blades are so inexpensive, I change safety razor blades after just two shaves, and I never have the problem with feeling a dulling blade pull my hair when it should be cutting.
— In General, Avoid the Big Shave companies
If you buy 24 Gillette Mach III Turbo cartridges from Amazon, you could pay $56.97 or more, which is $2.37 per cartridge. If you want the fancier 5-blade Fusion cartridges, you might spend $68.38, which works out to $2.85 per cartridge. You easily can spend over $3 per cartridge. But why? Try one or more of these other options and see if you don't switch permanently. One more thing, though...
— Change Your blade
The rule of thumb is the same whether you're using a cartridge or a double edge safety razor: if the blade starts pulling hair, change the blade. Since you're saving money on blades now, you can afford to change blades a little more often and get better shaves.
If you're wondering who sells what, then just refer to this list:
2 Blades: Dorco "Comfort Thin II" = Dollar Shave Club "Humble Twin" (ShaveMob does not offer a 2-blade solution)
3 Blades: Dorco "Pace 3" = ShaveMob "Baby Face" (Dollar Shave Club does not offer a 3-blade solution)
4 Blades: Dorco "Pace 4" = Dollar Shave Club "4X" = ShaveMob "Average Joe"
6 Blades (without trimmer): Dorco Pace 6 = ShaveMob "CaveMan" without trimmer (Dollar Shave Club does not offer this solution)
6 Blades (with trimmer): Dorco Pace 6 Plus = Dollar Shave Club "Executive" = ShaveMob "Caveman" with trimmer
What I Use: Dorco Pace 3 handle, Pace 3 or Pace 4 blades
I basically use whatever I have. I was using a Gillette Fusion ProGlide because I got a coupon in the mail that let me try one for about a dollar. It came with two cartridges. But I decided to try the Dorco Pace 3 and Pace 7 since I hadn't tried them yet. I have to say that really, I like the Pace 3 cartridge. I might get a slightly better shave with a 4- or 6-blade cartridge. But the 3 is relatively small. It doesn't feel like I'm shaving my face with a large paddle like it does with the Gillette ProGlide cartridge and with the Pace 7 cartidge. So at this time, I'm switching between the Pace 3 and Pace 4 cartridges. Once they're done, I'll go back to using the Dorco Pace 6 Plus because I have a couple of those left. And after that, I'll be using the Dorco Pace 6 for about two years because I have 16 of those cartridges waiting in a bathroom drawer.
What About Options for Women?!
Do these companies offer anything for women? The quick answer is Yes! Dorco have a line of women's razors, all with the common docking system. ShaveMob offer those as well, but Dollar Shave Club does not. You can subscribe to DSC if you're a woman, but you will get the same men's razor cartridges and handles. So check out Dorco's page of razor systems for women first. You will see that they have a "Soft Touch" razor that has a larger cartridge, but they also have some razors with the more standard design. And, again, the handles work with any cartridge, men's or women's. So if she has a 4-blade cartridge, but wants to try one of your 6-blade cartridges: you're both covered.