Updated 2016-04-25
Collector Series Chess Set
from The House of Staunton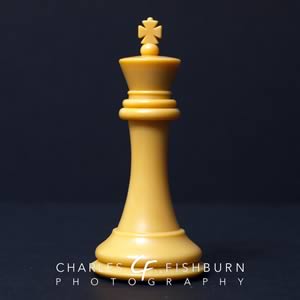 This set is known as the "Collector" series offered by House of Staunton, and is a plastic set based on its wooden counterpart. Obviously, the plastic version is less expensive than the wood version, but the set is still expensive compared to many other plastic sets. I own two different versions of this: one with a 4" king and another, slightly smaller one with a 3.75" king. Both of my sets are the "Black and Natural" color varieties. If you prefer a more stark white, you can get their "Black and Ivory" set. But the Ivory is absolutely white, and I don't like the contrast on my vinyl boards which have a slightly off-white base. As per many (possibly most) House of Staunton sets, this set came with a extra queen for each color, which is a nice bonus.
Each heavily-weighted set offers a wonderful playing experience where the pieces feel like they have a good bit of substance over what you might expect from a typically club-level or economy chess set. The king is tall with a relatively wide base, with "House of Staunton" molded in raised letters on one side of the base (not pictured).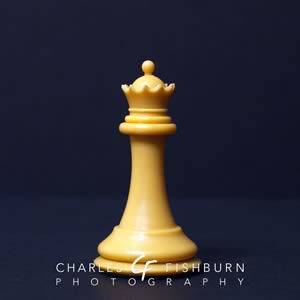 The queen is rather standard, but still maintains a clean and elegant design with sharp crown detail. The rook is stout and distinct with short parapets along its top rim. The bishop is also distinct with its deep and smoothly tapered miter cut, quite unlike a plain slit found in many less luxurious sets. The knight is rather full-bodied, but sharply detailed with precise lines and curves, with a short mane along the back edge.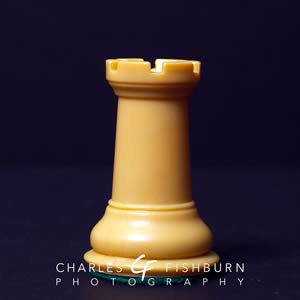 This is my favorite plastic chess set. The heft of each piece and the quiet thud you hear when placing a piece down on the board is quite satisfying. And design-wise, the knight is my absolute favorite. I can't think of a detail on the knight that I don't like. I wasn't sure about the eccentric miter cut on the bishop, and in fact I still find it a bit peculiar. But I have seen even more extreme examples of this design element which I like even less. Initially, I wasn't overly keen on the short parapets of the rooks, but I've since come to appreciate them.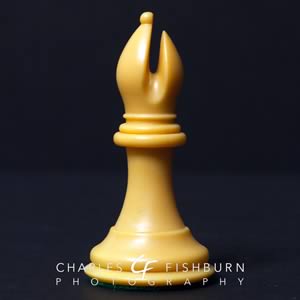 If you've been playing with a less expensive plastic set, especially one that isn't heavily weighted, and you're thinking about upgrading to a different set, I would highly recommend this one. I have said about my German Knight set that it's the set I keep in my club bag and use as my tournament set. But I have taken this set to clubs on occasion for non-tournament nights. It almost went with me to the last tournament I played. It is definitely a cut-above, stand-out set that conforms to the Staunton standard. And it is a very enjoyable set to have in a collection and on the board.